Listowel Christian School has an active Fund Raising Committee which oversees many ongoing and annual events. With the assistance of many volunteers and beyond, a substantial amount of funds are raised in support of LCS!
Ongoing Events
Annual Events
Gift Cards
LCS offers declining balance gift cards for many local retailers. Gift cards are available for purchase online through Fundscrip. LCS profits between 3% and as high as 7% on the sale of these cards.

Scrap Metals
Any time you have any scrap metal sitting around your house, shop, barn, etc., take a load to Thalen Enterprises [Tremaine Ave., Listowel] and the proceeds will be given back to LCS.
LCS Wish List
If you would like to donate to a specific cause at LCS, please take a look at our wish list below. We welcome your contribution to help us reach some of these goals. We also realize that some donors wish to remain anonymous and we respect confidentiality. If you would like to help change the lives of the students at LCS by helping us upgrade our equipment please contact us today.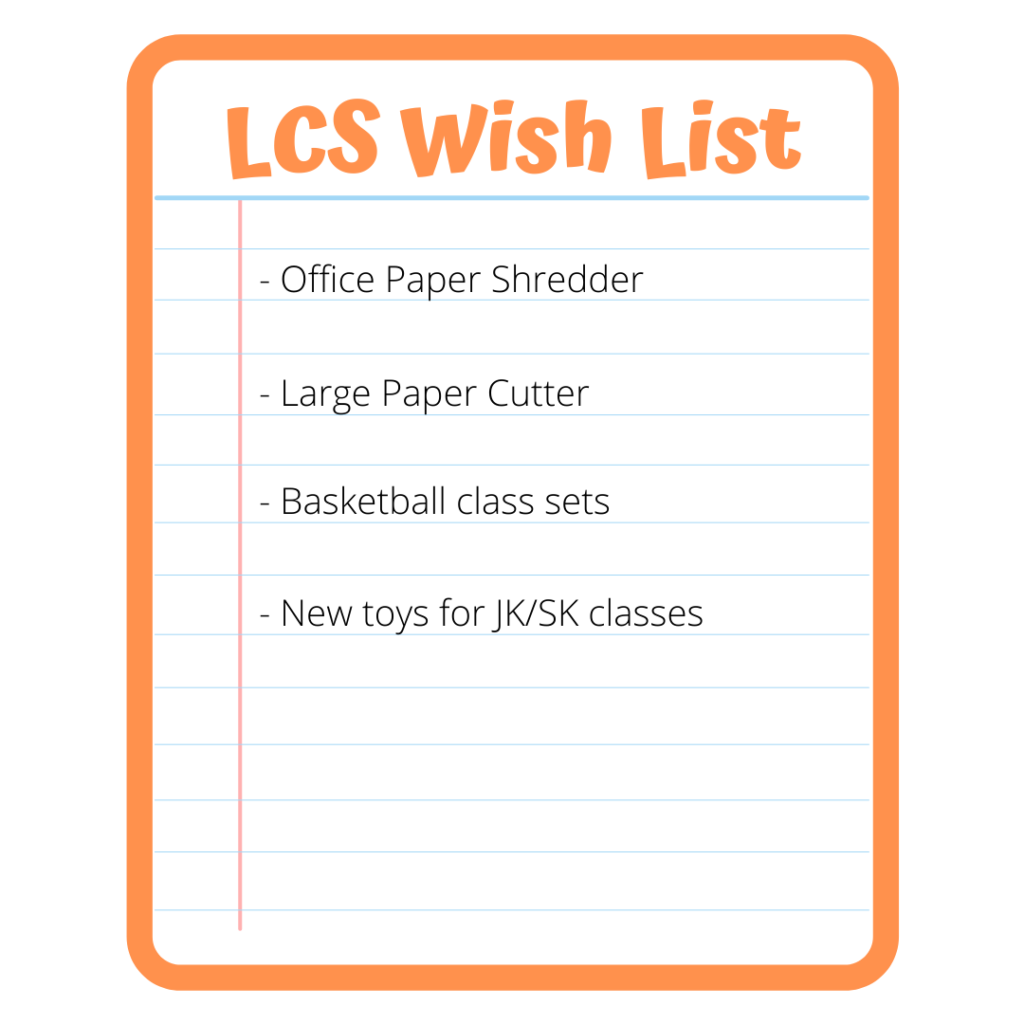 Donate Today
We truly appreciate your support and it is easier than ever to make a donation whether large or small. Donations can now be made online through one of our affiliations - Christian School Foundation. Donate now or learn more about the Christian School Foundation here.
LCS Pie Day
[October]We look forward to crisp autumn days to return, along with our annual Apple Pie Day! A small army of volunteers spends one day mixing, rolling, peeling, slicing, filling, bagging, and boxing up to 1000 fresh pies. These delicious, made-from-scratch pies are ready to bake, or freeze them to be enjoyed all winter long. Along with our famous apple pies, we now offer cherry pies and strawberry/rhubarb pies. Watch here for an order form, or contact any school family to reserve yours – they are great desserts to share at Thanksgiving!
Country Craft Bazaar
[November 2020] We invite you to come out to our annual Country Craft Bazaar held in the gym at the school. Last year we featured a buffet style brunch with takeout options. Other highlights are shopping for crafts at the handmade store, baking, Christian books, plants, and more. Bring the kids to enjoy the Games and Toy Store area too, there is always something for everyone. Check back here for future updates.
Croquettes & Bitterball
[March] An order for chicken or beef croquettes, along with bitterball will be placed in March of each year. Unfortunately this year we missed out but check back next year for some yummy treats!
Spring Auction
[March 22-25, 2022] Join us for our 2022 Spring Auction! Bidding starts online at 12 pm on March 22 and ends at 9 pm on March 25. Item pick up will be March 26 at the school. Bid on handmade treasures, brand new items, delicious food and gifts and support LCS while having fun! Head on over to charityauction.bid/ListowelChristianSchool ! Thank you so much for your support.
Golf Tournament
[June 13, 2020] We host a golf tournament every year for all our sport-loving LCS supporters. We play 9 holes of golf followed by a delicious dinner prepared by the golf course. Anyone is welcome to golf and stay for dinner, just play golf, or just join us for dinner if golf is not a passion. This year we will be hosting the tournament at Pike Lake Golf Course. Get a glimpse of the day here. If you wish to participate please stay tuned for registration & sponsorship details.
LCS Fall Drive
The fall drive plays a very important role to help keep Christian education affordable at LCS. Annually we set our goal to raise $100,000 which will go directly to lowering tuition. We would like to thank all who have supported families at LCS by contributing to the drive. Please note that due to the current ongoing capital campaign we will not be running the drive for the duration of the pledge period (4 years). If you would like to learn more about how you could contribute to the campaign please click here.
LCS Capital Campaign
In June 2017 we launched a Capital Campaign to upgrade our facilities. In short order we met the goal to proceed with the purchase of Listowel Central School and have begun the building upgrade phase. We plan to be ready for the 2018/2019 school year at the new site. We also have been able to come to an agreement of sale for our current property on Line 87 which will ensure financial stability moving forward. We would like to extend our deepest gratitude to all who committed to the Forward in Faith Campaign, your support will change the lives of all the students & staff of LCS! To learn more about the campaign check out the Forward in Faith Page